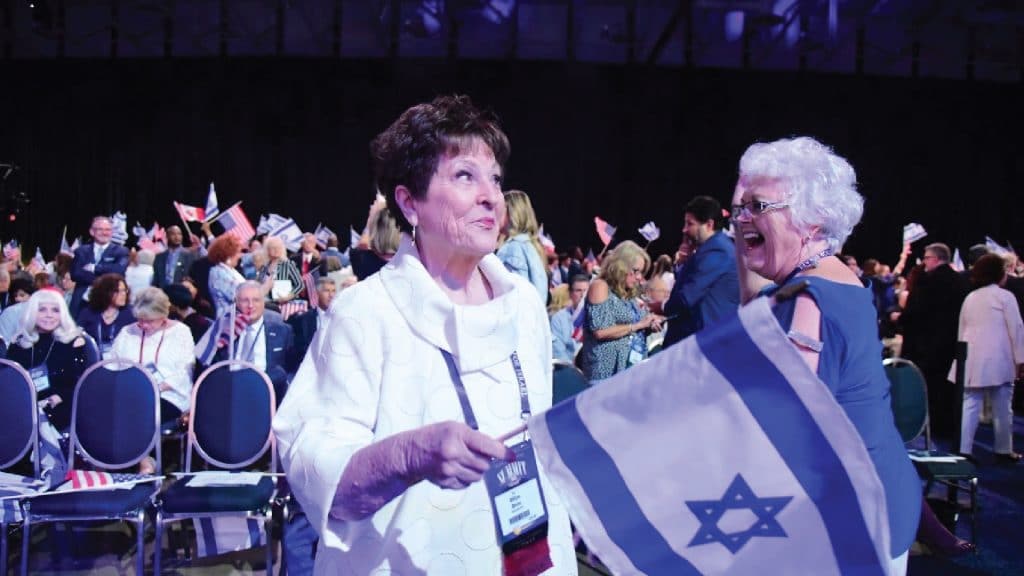 CUFI Washington D.C. Summit
ENCOURAGED!!! That's my one word reaction to the Christians United For Israel Summit we attended in Washington, D.C. last week.
I came away believing even more that our prayers for our government leaders are working.
Top government officials addressed us. And I liked what I heard.
Vice-President Pence, Secretary of State Mike Pompeo, Ambassador John Bolton, Ambassador David Friedman, Jason Greenblat, Senators Roy Blunt, Ted Cruz, Marco Rubio. A veritable host (considering we were in session only two days) of others HIGHLIGHTED by an opening live dialogue between Prime Minister Benjamin Netanyahu and Pastor John Hagee thanks to modern technology that the Lord has revealed to man.
You can view these on YouTube. And today I watched by Internet: CBN News, Update Jerusalem 7/12/19. This very interesting broadcast included clips from the top speakers at the CUFI Summit.
I am blessed to be a witness of CUFI and the Hand of the Lord upon it from the beginning 14 years ago. Only God could have brought CUFI and the Hagees to such a place of influencing this nation to bless Israel. Only God could have brought them to the place where they could command such a lineup of speakers.
We are now 7 Million members strong! The largest pro-Israel lobby group in America. If you are not a member, go to CUFI.org and sign up.
Thank you for obeying the Bible and praying "First of All" for those who are in authority. I saw and heard that our prayers are being answered.
(Sometime ago we launched a "First of All" Campaign to ask believers to commit to obeying the biblical exhortation to pray "First of All" for those who are in authority. [1 Timothy 2:1]. Several thousand of you did sign up to commit. If you have not, please go online (click here) and add your name. We'd like to have a huge number to present to our President.)
IN THE WHITE HOUSE
On Wednesday, about 50 of CUFI leaders toured the White House. After the tour we assembled in The Old Executive Office Building where the business of the Administration takes place.
We were addressed first by Victoria Coates. I was impressed by this lady very active in foreign affairs. Here's Wikipedia's short bio of her:
Victoria C. Gardner Coates is an American art historian, blogger and political consultant, mainly in foreign policy. She currently serves on the United States National Security Council as the Special Assistant to the President and Senior Director for Strategic Assessments.
At the end, Jared Kushner walked into the room. Somewhat of a surprise!
You know, I've really been concerned about the proposed Peace Proposal. I wondered if those involved in its negotiations really saw the picture. While they did not give us specific details, I can only say that I am encouraged that they do "see the picture" and are not fooled by some of the areas' governments—and so-called governments.
The 20-20 Elections
I believe that we have a window we need to keep open in the 2020 election. And I know you are praying now!!!!!
---
JOIN US:
WEDNESDAY 8:00 AM CST "PRAYER CALL FOR ISRAEL" | I will share more on this call as I lead in prayer
DIAL 1-701-801-1211
When prompted enter Access Code: 492-836-754#
(Click here for more information about the Prayer Call)
WEDNESDAY 12:00 NOON PRAYER MEETING (STREAMED LIVE)
(Click here for more information about Wednesday Noon Prayer)
3rd SUNDAY HEALING AND MIRACLE SERVICE | A live webcast, Sunday, July 21, at Three P.M.
Special Minister: Josh Radford
Place: Prayer Mountain in the Ozarks | Get Driving Instructions (Click Here)
For more information about 3rd Sunday Miracle and Healing Service and to watch live (Click Here)
WE ARE EXPECTING AN OUTPOURING OF HEALINGS AND MIRACLES!!!!!!!
See you there!!!
Billye Brim
P.S. I also had a lot of fun at the Summit. The blog post photo proves it!
Never miss a blog
Subscribe now to stay current with Dr. Billye's Blogs.