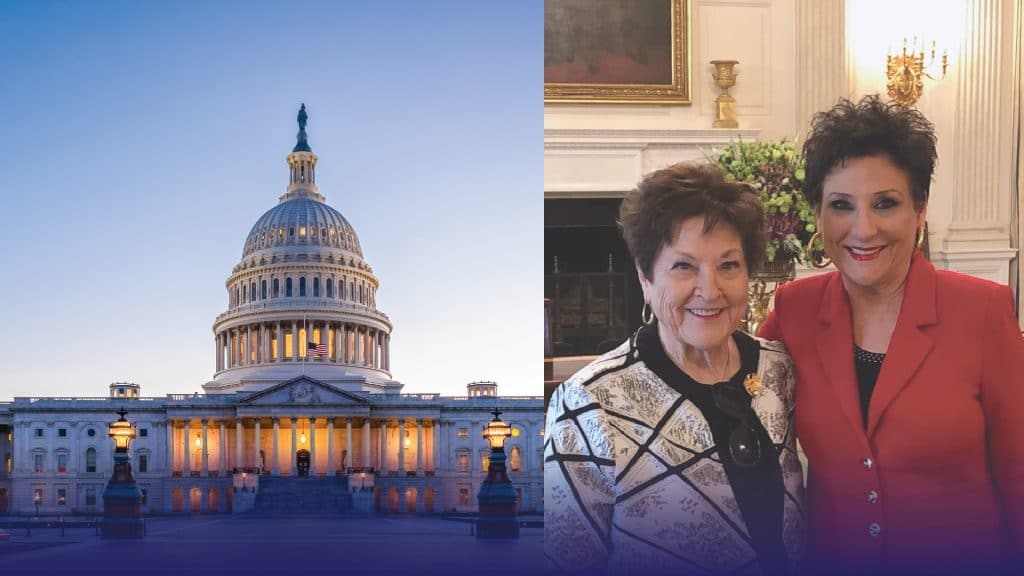 This is a kind of P.S. to last Tuesday's blog (click here to read).
Regarding the CUFI Summit. I was impacted by the influence Pastors John and Diana Hagee and the 7-million-member-strong CUFI have attained with our government leaders.
I was also impacted by seeing the result of saints across America praying FIRST OF ALL for those in governmental authority in obedience to 1 Timothy 2:1.
In both cases, I agree with what Diana Hagee always points out—our strength is in our unity; for it is there that the Lord can pour out His blessings (Psalm 133).
PROPHECY BEING FULFILLED
Here is a portion of a Word of the Lord through *Jeanne Wilkerson given in 1982. I believe we are seeing the manifestation of it:
There are going to rise voices that are going to stand in Washington, D.C. and proclaim the Word of God in truth and clarity and the heads of government are to listen. They are going to listen as never before, for America has her back to the wall. Her mind is stymied. Her conferences are walking out without solutions to problems. She is finding that she is in a blackout—she does not have the answers. The light is not there. She walks in darkness, the mind unenlightened by the power of the living God.
The mind that set this universe in its beginning, that keeps it in perfect order and is moving according to the Word of the Living God, is going to be heard more and more in this hour. They will call for it in the secret chamber first before they dare do it openly. They will call for men of the cloth who have the prophetic touch upon their lives to stand and tell them some answers to some problems in this hour, saith the Spirit of the Living God.
OUTPOURING OF THE SPIRIT
Mrs. Wilkerson gave this in a three-day meeting in Harrison, Arkansas during which she also prophesied of a great end of days outpouring of the Spirit. We recently had a meeting in Harrison with Dutch Sheets and others in which we made an appeal to Heaven in prayer for this outpouring. The following is also a part of the prophetic word delivered through Jeanne Wilkerson for this Ozarks area.
Every place that you've reached out to will all work together with you in an outpouring into a tri-state area: Missouri, Arkansas and Kansas. This tri-state area will be welded together. Look for the mighty deluge that is yet to fall on you. You are known as the "Show Me" state. Well you're going to get it," saith the Spirit of the Lord…
Look for this work of the tri-state area. The Spirit is saying even Texas may come in on some of this. Texas is going to give you much support and Missouri and Arkansas and Kansas will be beneficiaries. And even as Oklahoma that is like a great spiritual bank where I've invested much of the divine resources of God, out of that great state is spreading out like radar fingers into the darkness of the night. Much is going out of that area of Oklahoma. I have set aside such an area for certain things. I'm going to be now calling it forth, for the time is at hand," saith the Spirit of the Lord.
THIRD SUNDAY HEALING AND MIRACLE SERVICE
Next Sunday will be our first "Third Sunday at Three Healing and Miracle Service" since our recent "Appeal to Heaven" meeting in Harrison.
Let us unite in prayer and faith for an outpouring of miracles and healing at the meeting. Let us come united in expectation of the manifestation of the Lord's goodness.
Evangelist Josh Radford is our special minister. He always comes "fired" up for he loves the Good Word of God and the manifestation of the Spirit of God.
I will be there and I hope you can be as well. We need your supply of the Spirit. If you cannot attend in person, attend in spirit through the Internet live streaming. (click here to view event)
Love in Him,
Billye Brim
*Sister Wilkerson, as we called her, may have been used by the Lord more than any other to prophesy to Dr. Kenneth E. Hagin. The first time she came into his meeting back in the late 1960s, the Lord pointed her out to Brother Hagin and said, "That woman is a prophetess and she has a Word of the Lord for you." Not even knowing her then, he called her to the platform. The prophecy proved to be one of the most powerful ever given him. After that, he seemed to always be conscious of her presence though she would purposefully seek a back seat, and he would call her to the platform.
She lived with her husband, D. C. Wilkerson, in Tulsa, where he was a very successful businessman.
Never miss a blog
Subscribe now to stay current with Dr. Billye's Blogs.