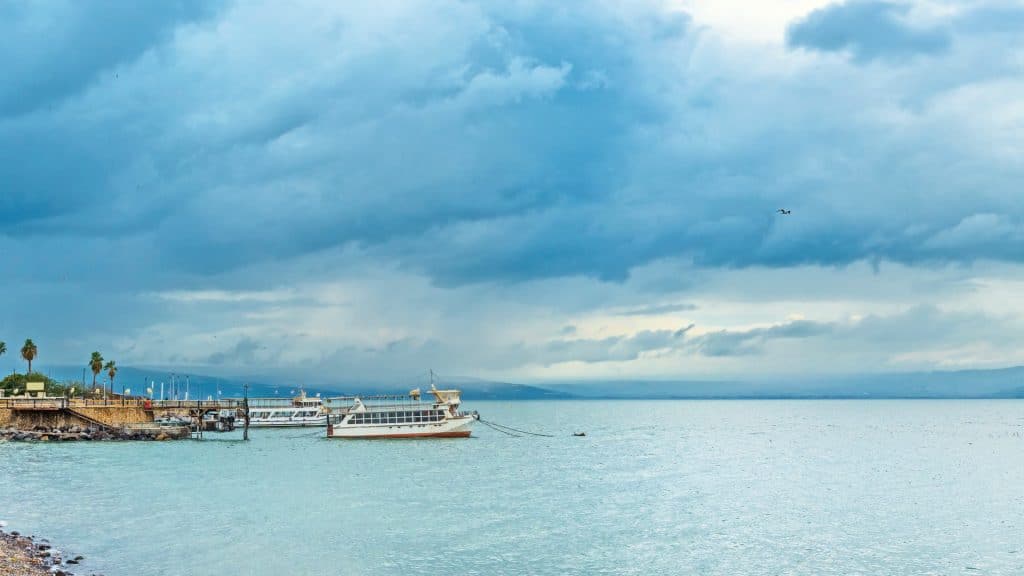 The Kinneret (The Sea of Galilee)
Shelli and I have been in the Land a few days to rest before welcoming CUFI's Women in Leadership tour which I will help lead along with Cheryl Morrison.My room in Tiberias offers a wonderful view of the Sea looking across to the Golan. What it does not offer is Internet. (I will write this and then go to the Lobby to send it.)
We really needed the rest. One weekend we went to Mara-a-Laga (the President's place) where we attended a pro-Israel political dinner. Then we taught a week at Prayer Mountain with 70 or so live students in the classroom. We are preparing on-line classes for 3BI. I really enjoy this teaching. The students there enjoy it. And I know you will too when they are available on-line. Then the weekend before we left we were blessed to be the guest speaker at Covenant Church in New Orleans. Pastor Cathy DuPlantis invited us and we really didn't see how we could until much later. But the Lord impressed me to get there as soon as possible. So we fitted it in. And oh! It was a good fit! The Lord led me to share my testimony and He anointed it. Personally it was such a time of blessing for me. Shelli and I got to stay in the DuPlantis' beautiful home. And we has wonderful times of refreshing fellowship with Jesse and Cathy. They were so kind to us.
Gaza Border
Since arriving at the Kinneret yesterday I have not been able to keep up with the news. We were in Tel Aviv a few days before we came here. As we watched the news the rockets continued to be fired from Gaza with the IDF continuing to respond. (We will not be anywhere near the border with Gaza.)Of course what to do about this is much talked about in these days nearing election April 9.
Elections
The polls vary. Israel's citizens will vote directly for a party. Those parties (not sure how many there are this year, I recall years when there were 14) will already have voted within themselves listing in order their candidates. For instance in the Likkud Prime Minister Netanyahu is Candidate number one. The new party (The Blue and White) has recently formed with its top 3 in order General Benny Gantz Yair Lapid and General Moshe Y'Alon.
[Some of you might remember how through a strange and almost funny series of events General Y'Alon and I became friends. If you have gone with me to Israel you may have been in a group where the General would visit us give us a briefing and even answer questions. It always amazed me how this former Chief of Staff and recent Defense Minister would take time to meet with our little group of travelers. We would come in from a day's hiking the hills of Israel. Usually not having time to clean up before our scheduled appointment with the General in a meeting room at the hotel. Brenda was a little late to the meeting once and the General was even later. So she got to see how Security had cleared out the place for our meeting.]
The last poll I checked said Blue and White was leading with 32 seats with Likkud having 28. But you know how polls are-not very reliable and changing daily.
Anyway it works like this. Whichever party gets the most in the general election will be given the opportunity by President Rivlin to form a coalition government within a limited amount of time. If they are unable to do so it goes to the next in line.
There is lots of wheeling and dealing in these times. Such as "We will join our x number of seats with yours, but we want The Defense Minister's office."
A coalition has to be the majority of the 120 member parliament, or 61 seats.
The Golan
I will be much more informed about Iran's actions along the Northern Border after we travel it tomorrow. Rani Levy will address our group at The Valley of Tears. And we will travel to Mis Gav Am where we will look right into the windows from which HezBallah has Iranian Rockets aimed at Israel.
President Donald John Trump has officially recognized that The Golan is an undisputed area belonging to the Modern State of Israel. Thank God for the recognitions this President has made-Jerusalem as Capital and The Golan as Israel. Of course, this brings the United States in line with the biblically declared Word of God.
The CUFI Women's Tour
Just got word their flight was delayed. They should be here around 8 pm Israeli time. We need an early start tomorrow for all we have to do. And that is usually not a problem as everyone usually arises at a very early hour the first day.
We will be praying as we walk the Land. Please pray for us. And especially for the ladies tomorrow. I do want them to be alert to take in such a wonderful day-it's my favorite of every trip.
Shalom, Shalom
Billye Brim
PS. Don't forget to tune in tomorrow at Noon cst for our weekly Wednesday prayer webcast. Special guest Nigel Bigpond will be joining us!
Never miss a blog
Subscribe now to stay current with Dr. Billye's Blogs.