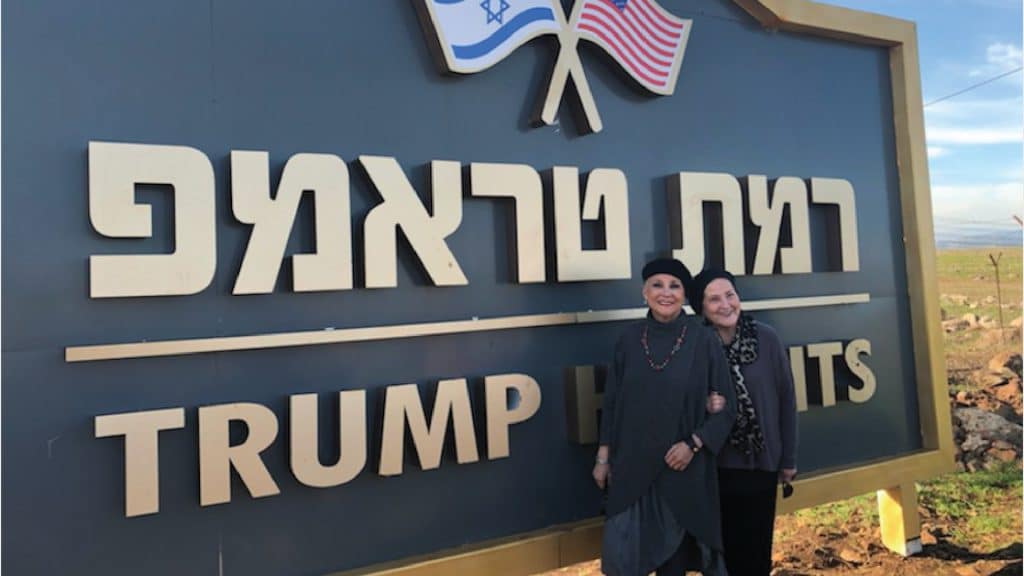 Israel's Borders; Gaza, The Golan, Syria, Trump Heights & More
I just finished the 8 am Prayer Call For Israel. And I have to confess I almost missed it. I'd forgotten the U.S. goes on daylight savings time before Israel. Shelli saved the day with only about 10 minutes left before the call.
Again, the Lord got me to the right place at the right time.
3BI Israel Study Tour
And I have to go back to Tuesday's blog and the miracle of Hans and myself working on this project together. I've spent some time in the "selah" mode over it. I've pondered how more than 30 years ago, the Lord directed Hans' path and mine to meet in Israel. Each of us trained and equipped to bring the teaching of God's Word in The Promised Land to many people around the world!!!
Israel's Borders
Gaza
We drove north from Beer Sheva to the Elah Valley, site of David's victory over Goliath. The place of the confrontation has been purposely kept in its natural state. Most of us gathered 5 smooth stones from the brook to take home. Chip easily got into the telling the account of probably his favorite O.T. hero. We looked up at the hills where the opposing armies encamped. Then, some of the group saw lights flash in the sky. It was the Iron Dome defense system taking out rockets being launched from Gaza just a few miles to the West.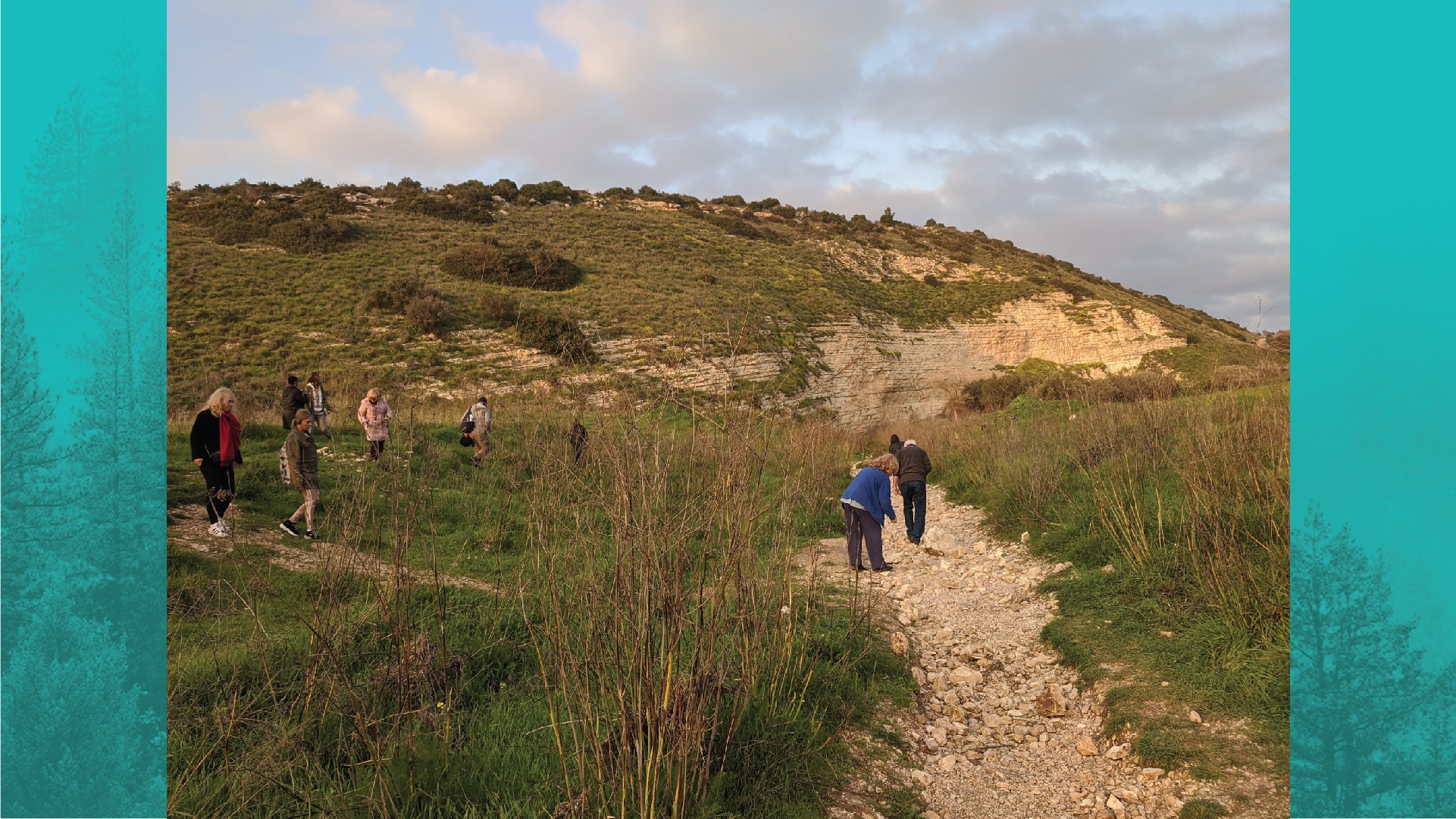 The Golan
One of my favorite days is when we tour the Golan.
Syria
Valley of Tears
Rani Levy−from his heart and from his father's close personal ties to the hero Avigdor Kahalani−described the critical tank battle of the Yom Kippur War that happened where we sat. And again, we heard sounds of battle in Syria, not far from where we were.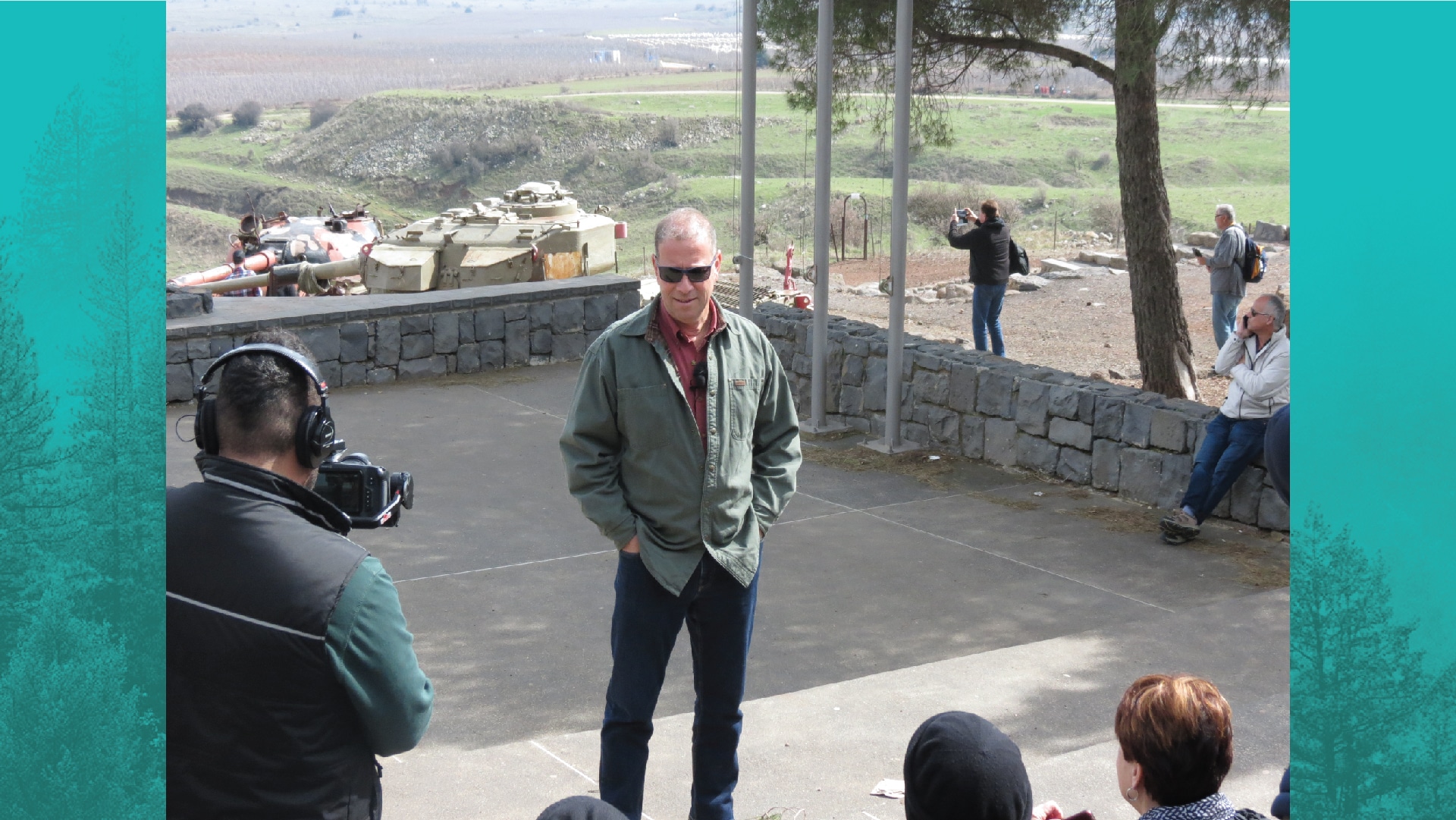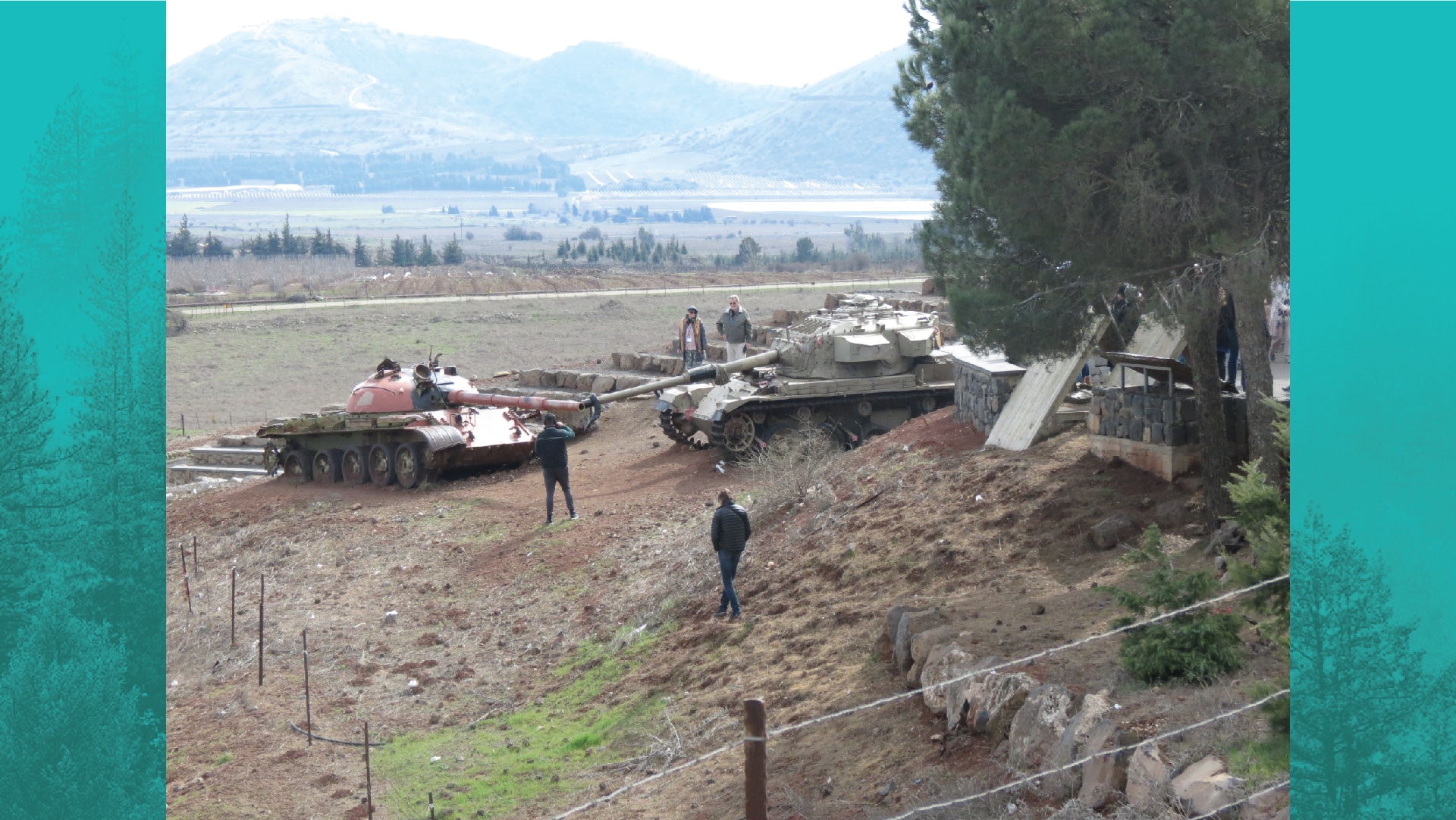 Trump Heights
Israelis love President Trump! And in honor of his recognizing the Golan as a part of Israel they will build a town in the Golan named for him. I wanted to go there and have our picture made with the sign.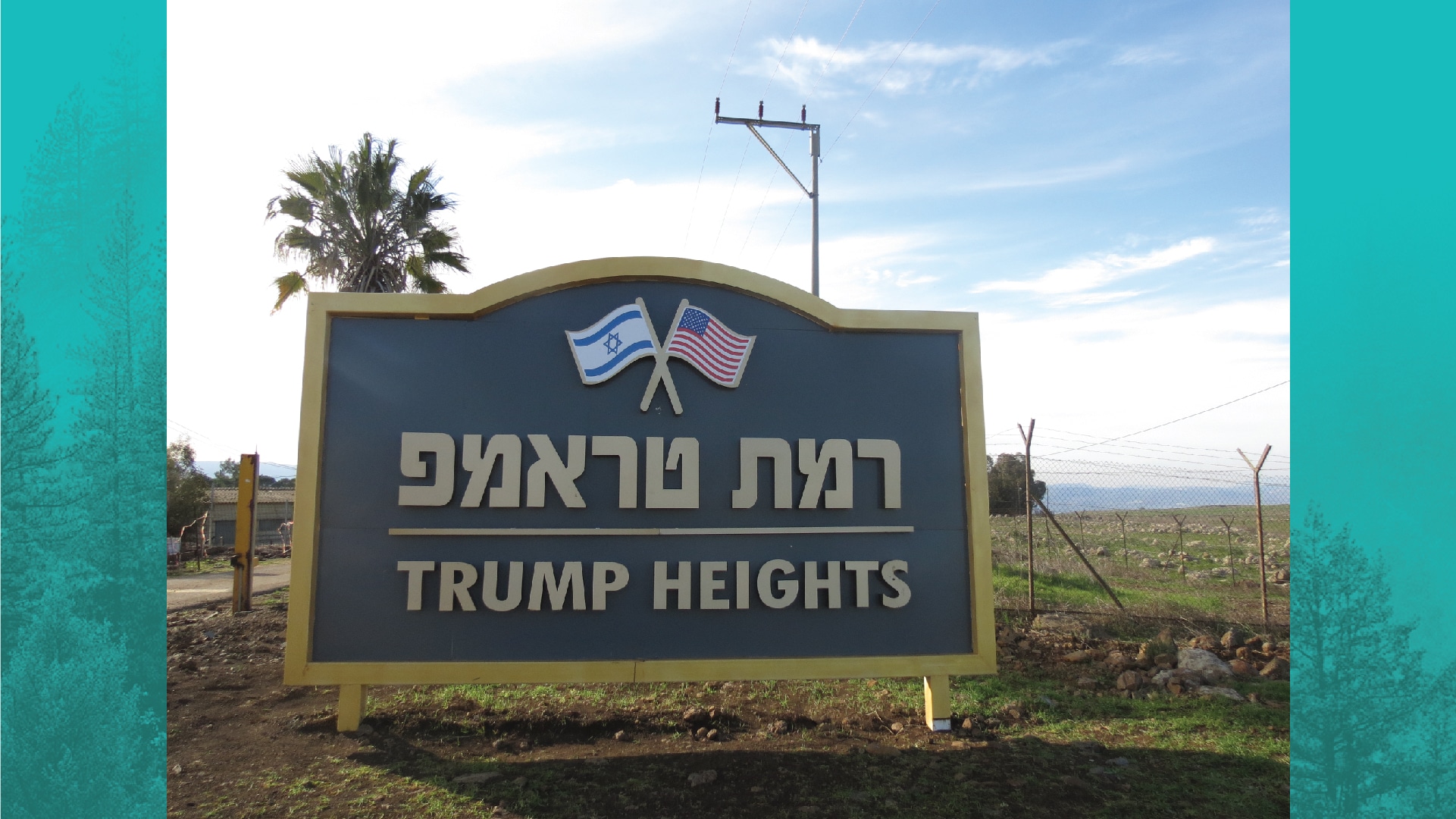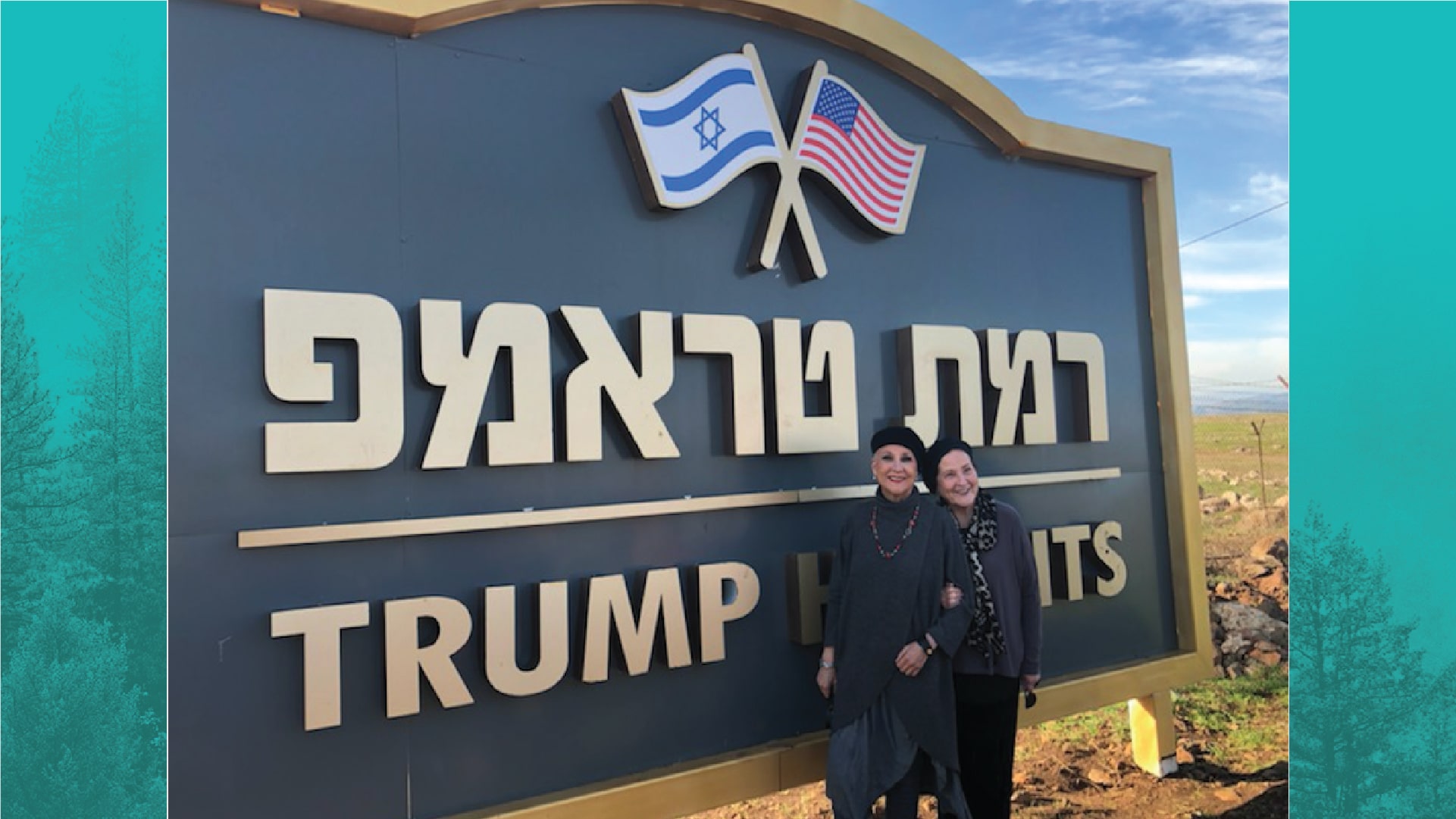 Lebanon Border
We visited again, as is our custom, Misgav Am in the High Golan on the very border with what was Lebanon. It is still that on maps. However, every house we looked at−and they have built so many−is a Hezbollah weapons storage facility. As I understand it, they offer people to come to the area with the promise of a home and salaries. But every house holds missiles.
When you hear that Israel has taken out a convoy in Syria transporting missiles, know that Iran is trying to get them to the Hezbollah in Lebanon.
Our camera crew was with us for every border event from the Elah Valley to the borders of Syria, and Lebanon. And on another day the border with Jordan.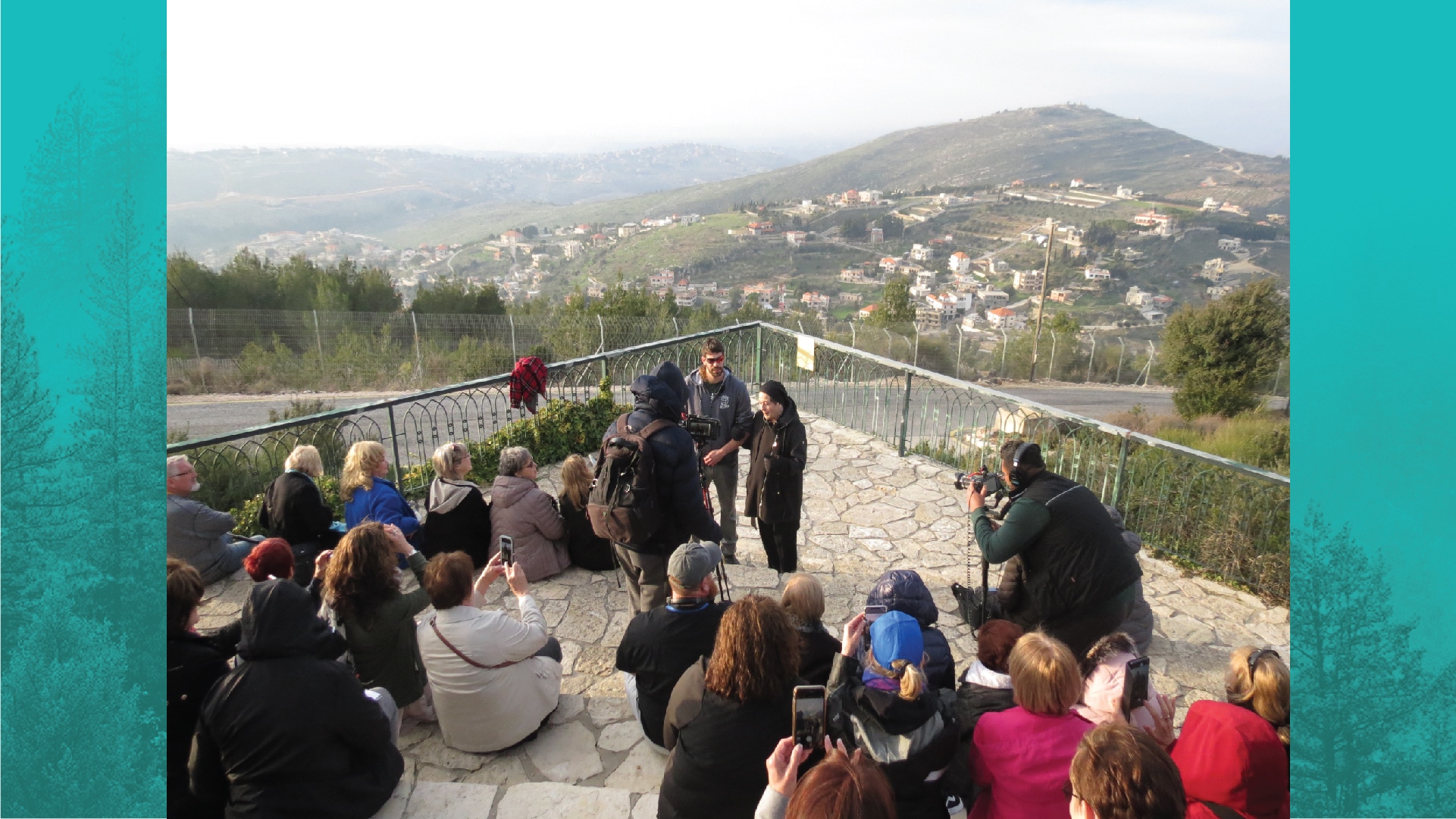 The Site of Jesus' Baptism
We went to the place where Jesus was actually baptized. The land of Jordan lies just across the River Jordan from where we sat.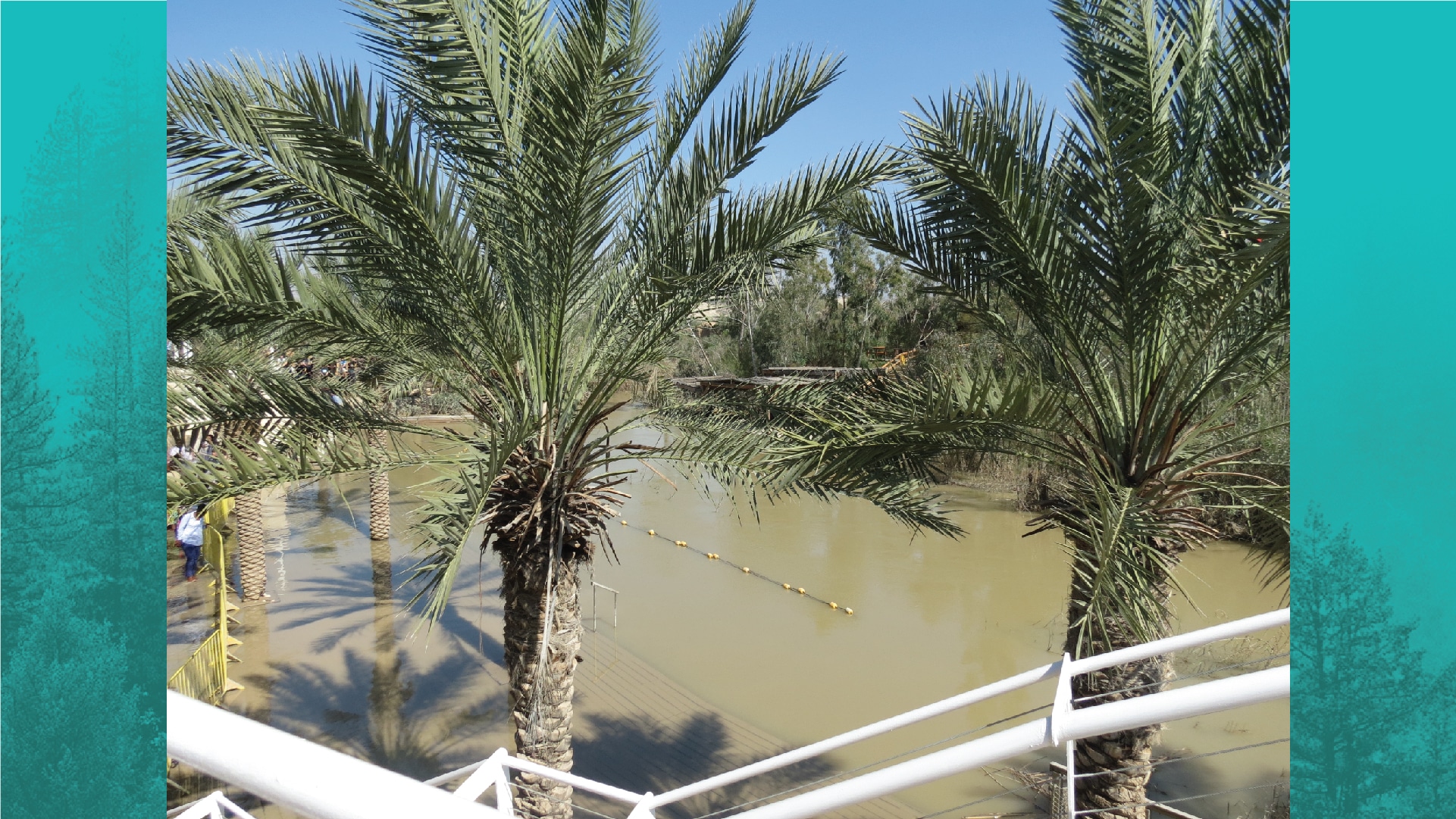 Thoughts of John the Baptist flew to mind. Especially the moment he saw his cousin approaching and the sign of the Dove alighting on Jesus. I am sure they knew each other. They were family. Joseph and Mary would have brought their family to the home of her cousin Elizabeth during Passovers and other feasts. But when John saw Jesus here it was the moment of Divine revelation.
Back to the Present
Israel's Stringent Corona Controls
Probably no other country has established the restraints Israel has. Early on they banned entry from many countries. China, South Korea and other Asian countries were the first. Italy, Germany, France, etc. soon followed.
Today, Israel imposed a 14-day quarantine on passengers coming from any country. (This includes the USA.) As a result, airlines are cancelling flights to Israel. Of the many tour groups that were planning to come, I doubt they have any place for their people to stay holed up 14 days. Hence the cancelling of airlines coming into Israel.
These controls are not imposed because Israel has a large number of infected people. But because they are taking precautions to keep that from happening.
Rani Levy told me about hearing an interview with the Director of the Ministry of Health. It went as follows:
Q: Aren't you overreacting?
A: Well, ask the Germans and the Italians if they could go back in time if they would do what Israel is doing?
And ask me if Israel could go back in time if we would do what Germany and Italy did?
Elections
I called Rani to see if he could help me with understanding how it stands.
He said that Right Wing parties clearly won the elections.
The Likkud Bloc has 58 seats.
The opposition Blue and White party can garner only 45.
The idea has been floated that perhaps the B&W could form a coalition with the Arab parties who have 15 seats. But 5 to 7 of these seats are declared enemies of Israel and supporters of Hamas, etc. Such a coalition has not set well with the public.
Possibilities:
A United Government with Likkud and B&W
A 4th Election.
Keep the clear-cut right wing majority in mind. For I'm going to write another blog tomorrow about something amazing we heard in Hebron. Something good!!!
Shalom Shalom and THANK YOU FOR YOUR PRAYERS AND SUPPORT!!!!!!! I will have been gone from home and the traveling ministry for a relatively long time and it is your faithful support that God uses to keep us going. May you have much fruit to your account.
Never miss a blog
Subscribe now to stay current with Dr. Billye's Blogs.