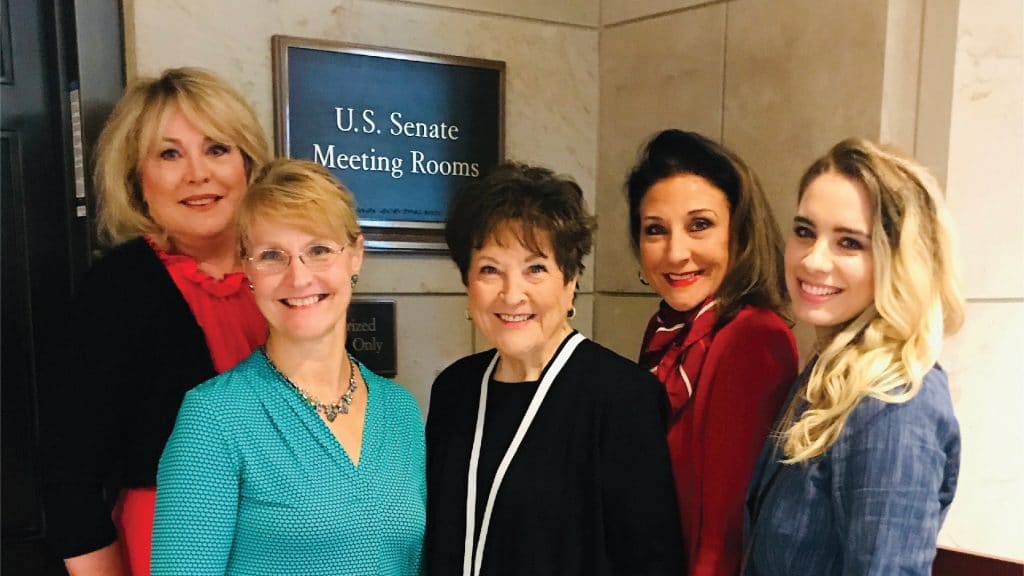 What A Day! – Special Edition, Washington, D.C.
In Hebrew School I learned a song which ended with a shout of Azza Yom! (Pronounced with the long "a" sound.
Translation: What a day!
Of course the Lord ordered our steps.
We spent most of the day in the Capitol. Praying as we walked the halls.
Met an amazing group of women who knew Brett Kavanaugh personally, some went to school with him. Some had worked for and with him. One had daughters on the basketball team he coaches.
As the day went on, large opposition group of a few thousand literally shut down the Hart Senate Building.
The sense of peace we experienced after our authoritative prayer last night (which we prayed right up to the door of the Supreme Court Building) lasted through the day.
Peace was upon us as we walked through crowds of people who don't see things as we do, some of whom voiced ugly accusations to us individually. They received lots of press attention. We were interviewed by one AP cameraman, but I doubt they will show it.
During the relatively short shutdown, the Lord had placed us in Senator Grassley's office where we met powerful pray-ers. One young black woman, in particular, led out in such anointed prayer that we could totally agree with. I sat next to a WWP from Virginia! What a delightful woman. And throughout the day people in the halls would recognize us and identify themselves as those who appreciated the Lord's ministry through us.
Andrea from Washington D.C. has guided us. She graciously opened doors through her contacts here that she has made through many years. Heidi, who leads an intercessory prayer group in San Antonio, is also very knowledgeable of our government here. And is an integral part of our group. With the LORD first and these two women we are in good hands. We have received such favor we will have seats in the Senate gallery at the two upcoming votes.
Here is a little of Andrea's email to me:
Be sure to turn on c-span tomorrow starting at 10am. still not sure when it will start but the Senate will consider and debate a procedural measure. They will vote on whether to proceed to a vote on Kavanagh. Once vote takes place tomorrow a final vote will be about 30hrs later on Saturday—maybe 5pm. There will be some debate before (maybe an hour).
Not sure when he will be sworn in.
Will expect to meet you in prayer at the throne tomorrow.
I am telling everyone we meet that thousands are praying with us who are not here present.
Uppermost in my heart is prayer for our beloved country to heal from the division the enemy is aiming at us to defeat God's destiny for this nation.
Shalom, Shalom
Billye Brim
Never miss a blog
Subscribe now to stay current with Dr. Billye's Blogs.