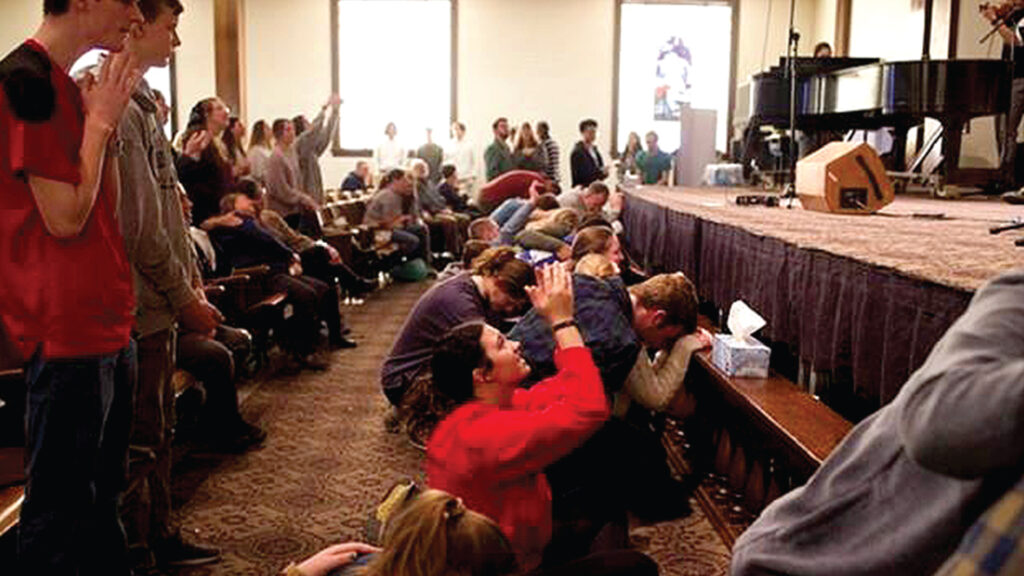 Report: Outpourings of the Holy Spirit
I just now got off the phone with Brother Martin Mallory. The Lord sent him and his wife our way last Wednesday Noon prayer. I don't remember at what point I introduced them, but the archives will show their special faces.  I regret that I did not have them share their witness in more detail.  So I contacted them and asked if they would call me.
Martin called me today from the Atlanta airport where he was changing planes. 
I asked him:  How did it begin?
He said that his friend, Z.M. brought the morning message at the regular chapel service. Z.M. texted his wife that the message was not very good.  Martin listened to the tape and he said it was nothing special. A few students hung around (not unusual). But then other students who had left felt drawn back to the chapel. From there it spread. And has been going on till now!
Brother Martin said he'd lived in Wilmore 25 years. It is a town of 4000. Yesterday, the state police "closed the town down." Posted signs "REVIVAL. FULL."
On the ground some estimated the number of people at 20,000. From the air, they estimated 50,000.
Brother Martin has prayed at the altar with people from distant places such as Malaysia. A man from Alabama said he just knew he had to go to Kentucky.  He had not known the Lord. He was born again.
They are having documented healings.
Brother Martin told me, that he doesn't say anything about the gifts operating through him, but when he prays for someone, they just flow.
There is a great hunger.
I asked him what it was like to walk into the place.
He said, "I cry. My wife glows. Jim Garlow visited yesterday and posted some pictures. One was of my wife. You can see the glow."
[Jim Garlow has Well-Versed Ministry]
He said that after a move of God there some years ago, it just "wrecked" us for the mundane. And since then we have been praying… We have had seasons… But nothing like this.
Living Word Christian Center
Minneapolis, MN
Pastors Mac and Lynne Hammond
My dear friend, Lynne, called me this morning. An afternoon prayer service began in the chapel yesterday at 3 o'clock or so. It spread to the auditorium. People stayed through the night. Still going on. Maybe you can get there.
Houston Texas
Saturday
February 25
Dwelling Place Church
1:00 P.M.
6:00 P.M.
Read my previous blog. I thought I knew what I would share, but I may also speak about "The Awakenings!"
Can you email, or phone if you plan to be there. Not necessary. But would be helpful. Would love to see you in Houston. (click here for more information)
Never miss a blog
Subscribe now to stay current with Dr. Billye's Blogs.