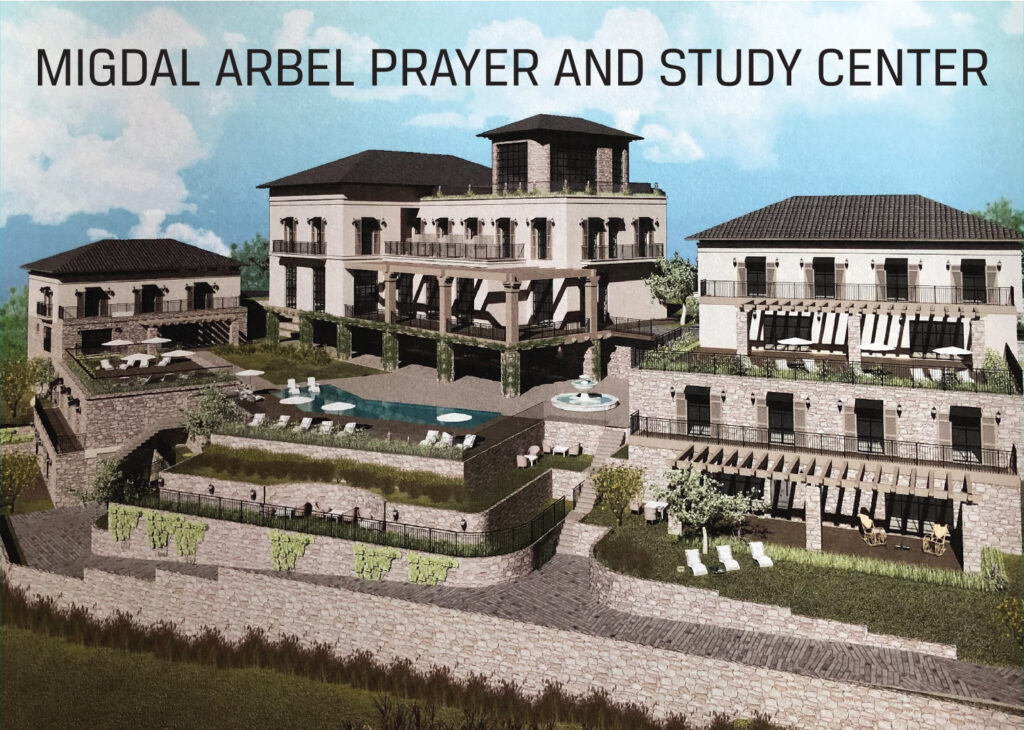 Migdal Update | January 2022
Shalom, I have a wonderful update on our project in Israel, Migdal Arbel in the Galilee.
We had a phone call recently with the Israeli firm that has taken over the building project and so many things have happened.  Someone said to me, "How did you get them to accept you as a client?" Well, praise the Lord, they vetted us and believe in the project.
So, I spoke with Nir, the project manager and he started off by telling me what a prime location we own. He said that business and building in Israel is really good right now. He said, "Your property, what you have on the Sea of Galilee, is priceless." He named some things that are good about it:
Private Ownership– Only 7% of the land of Israel can be privately owned. We are the only owner of the land! Other land in Israel, 93%, is owned by the government and if you're Jewish you can lease the land.
Zoned Property– Migdal is already zoned and we have our building permit. Nir said, "If you had all the money in the world. You could not replace what you got in your land right now. You could not buy it. It's just not available!" All of Israel is only the size of New Jersey and their population is exploding and increasing. The Bible actually says that there will be so many people brought back to the land (Eretz Israel) that there won't be room for them. So, they need room and places for them to stay and at Migdal, we will have places for 90 people.
The Ministry of Tourism Approved Migdal Arbel Prayer & Study Center as an Experience
We are very free! Even in a place of where it was at one time thought we would not be able to put up a sign that said Prayer & Study Center. Now we can put up the sign because we are an experience for others to receive. Bless the Lord!
The Current Stage: The Working Plans
We are currently changing the architectural drawings to working plans. In order to begin, we needed 15 things that had to get approved— and we got them! The hardest approvals were the last three:  The Army (I.D.F.) approval of the bomb shelters, the Ministry of Health and the Fire Department.  Now our architects are moving fast ahead on preparing these plans. This process should take two to three months. There are 16 layers of consultants that have to be considered.
I don't understand all that but all systems have to work together—and there are 16 layers of systems. Then we will go out for bids and from the best three in each category; we will then make the final choice.
After the Working Plans: 24 Months to Build + 24 Million Dollars
Nir thinks it will take us 24 months to build and that the budget is 24 million dollars. We have gone before the Lord and we have called the money in for this project to be completed. Thank you for agreeing with us.
Nir also thinks, we will qualify for a grant up to 20% of the cost. He said that the day we begin building we will hire a grant specialist, whom Nir knows, and he will begin to work.
A Marvelous Thing Happened During Wednesday Noon Prayer, January 12, 2022
You might want to watch (click here) and see how the Lord spoke to us in tongues and in the Arabic translation and interpretation that the Blessing of God is on Migdal Arbel:
(In order, with first, only the scripture reference given, I chose Weymouth's, and then the phrase.)
2 Cor. 9:8, Weymouth
And God is able to bestow every blessing on you in abundance, so that richly enjoying  all sufficiency at all times, you may have ample means for all good works.
My Blessing on Migdal Arbel
That's all we need—His Blessing! Oh, how that thrills us!  I know God's purposes for Migdal Arbel, now—and in the next period that's coming up on the earth that is a seven-year Schmittah Cycle. He's spoken to me about how it will be a blessing to certain ones in those times.
Praise the Lord! Thank you for being our partner and praying with us about Migdal Arbel in the Galilee for the miraculous Land that He gave us!
Shalom, Shalom,
Billye Brim
If you would like to donate to the vision of Migdal Arbel, click here.