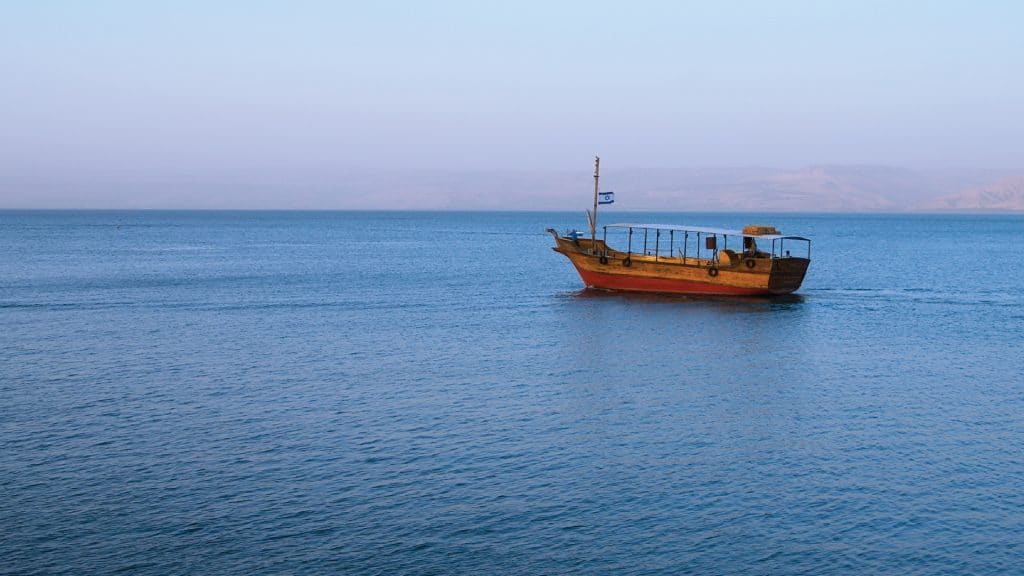 The Shores of the Kinneret (Sea of Galilee)
I just finished our conference Prayer Call for Israel 8:00AM CDT every Wednesday. Yet for me it started at 4:00 PM. It was thrilling to share and pray with so many believers from across the U.S., Belgium, Canada, and the U.K.
Our two-bus tour is made up of people from across the U.S., Australia, Lithuania, Canada and Tanzania. In fact, the pastor from Tanzania was baptizing people from our tour in the Jordan River even as I was conducting the prayer call.
Gaza
The Jerusalem Post reported that "Tuesday was a day of rocket and mortar fire." It said that four barrages of mortars (180) were fired at southern Israel from the Gaza Strip.
Just as I am typing the following was announced via the Jerusalem Post on line:
IRAN IS THE CULPRIT BEHIND TUESDAY'S GAZA ROCKET BARRAGE, ISRAEL SAYS

The mass produced 120mm mortars and more accurate 107 mm rockets were fired by Iranian funded Islamic Jihad.

Israel is pointing fingers at Iran as the culprit behind the most serious escalation on it's southern front in four years.

Less than a month after Iran's Revolutionary Guard Corps fired 32 rockets toward Israel's northern Golan Heights, the Iranian-funded Islamic Jihad, along with Hamas, fired some 180 Iranian-made, 120-millimeter mortar shells from the Gaza strip. The barrage included the more precise 107-millimeter rocket, which has a range of about ten kilometers into the communities in southern Israel.

It was the largest salvo fired from the Gaza Strip since the end of Operation Protective Edge in 2014. In response, Israel carried out the most extensive retaliation since 2014, striking 65 Hamas targets across the entire Gaza Strip, including a dual-purpose tunnel dug one kilometer into Egypt's Sinai Peninsula and then 900 meters into Israeli territory.

According to IDF Spokesperson Brig.-Gen. Ronen Manelis, the tunnel was meant to not only carry out attacks against Israel, but to smuggle weaponry into the blockaded coastal enclave.
We are nowhere near the Gaza Strip.
And in fact 75% of the school children in Israel near Gaza attended school today.
Again, as in the Iranian attack from Syria, the IDF used it as a reason to respond with the much heavier military capabilities which Israel has. There have been no mortars or rockets fired today.
It seems that God is using Israel to protect Israel.
Mossad Intelligence Coup
If you have followed the amazing intelligence coup the Mossad carried out early this year and which Benyamin Netanyahu announced April 30, you may have wondered as I did as to how they could possibly have done it.
They removed a warehoused data trove of Iran's nuclear secrets. The documents weighed 1000 pounds. They loaded them on two trucks and got them out of Iran and into Israel.
A source here who spoke to our group told us something which further amazed me. Many Iranians helped with this coup and Israel got them and all of their families safely out of Iran.
MIRACLES
One rabbi and his congregation sang the Hallel Psalms which are sung on holy days and when something miraculous happens for Israel.
They recognized a string of events which they believed revealed the Hand of God.
The intelligence coup.
President Trump taking the U.S. out of the Iranian deal.
President Trump moving the U.S. Embassy to Jerusalem.
Israel's retaliatory strikes which destroyed so much of Iran's infiltration into Syria.
Never miss a blog
Subscribe now to stay current with Dr. Billye's Blogs.