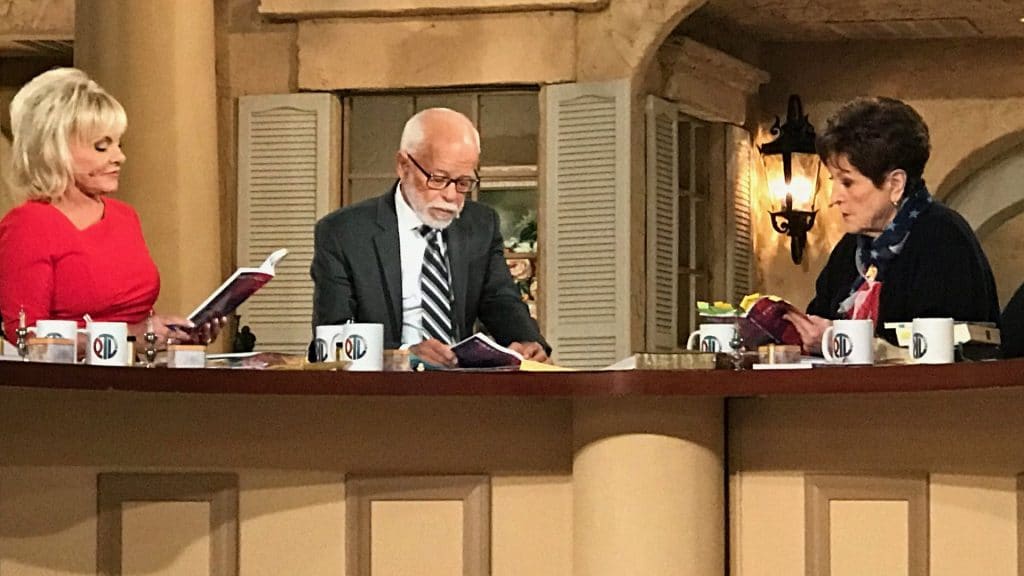 Recording with Jim Bakker
Yesterday a group of us drove out to Jim Bakker's Morningside in Blue Eye, MO where I was invited to record a program to be aired Friday, August 17 & Monday, August 20.
I am thankful for this opportunity to once again recruit believers to pray FIRST OF ALL for those in authority in our beloved country. Jim and Lori allowed me to focus on my book FIRST OF ALL And The Awakenings.
(You can see all three of us reading from it in the attached photo.)
My prayer is that many, many more will commit to obey the Lord's Word in First Timothy 2:1-4.
We simply MUST obtain in prayer a greater Unity among our citizens.
Prayer—and particularly an awakening that prayer can bring upon us—will heal the divide Satan is attempting to bring.
I invited the watchers to go on line to Jim Bakker's website or to our web site to sign up…commit…that they will pray FIRST OF ALL for those in authority. (We currently have 6500 who have done so.) Remember in your private prayer time, before you pray for your family, yourself, your ministry, your business, etc., lift up to the throne of God those in civic and in spiritual authority. These verses promise us results if we obey its instruction. I believe we can have a wonderful window of opportunity brought about by obeying these verses.
If you don't have my book, FIRST OF ALL And The Awakenings, please order one from us today. You will thrill at how God-given Awakenings have birthed and preserved this nation.
Shalom, Shalom
Billye Brim
1Tim. 2:1 ¶ I exhort therefore, that, first of all, supplications, prayers, intercessions, and giving of thanks, be made for all men;
1Tim. 2:2 For kings, and for all that are in authority; that we may lead a quiet and peaceable life in all godliness and honesty.
1Tim. 2:3 For this is good and acceptable in the sight of God our Saviour;
1Tim. 2:4 Who will have all men to be saved, and to come unto the knowledge of the truth.